Ball Games
We have a large oval area at Log Cabin Camp which lends itself to outdoor activities of all types but especially ball games. The following is a list, some with info and further explanation, of ther types of things you can do with the equipment we supply here at Log Cabin Camp.
Basketball, Cricket, Football, Soccer, Softball & Volleyball
Basketball
Our new basketball court also has markings for tennis and four lots a four square - something for everyone.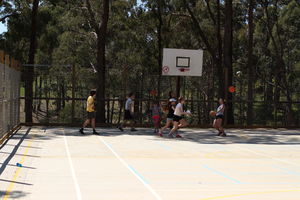 Volleyball
Volleyball is your perfect opportunity to encourage teamwork and sportsmanship amongst your campers. The sport continues to gain in popularity, especially in Australia with great successes in beach volleyball at Olympic levels.
The aim of the activity is to provide participants with a fun and energetic activity developing their psychomotor skills, increasing their self-confidence, while competing in a team sport.